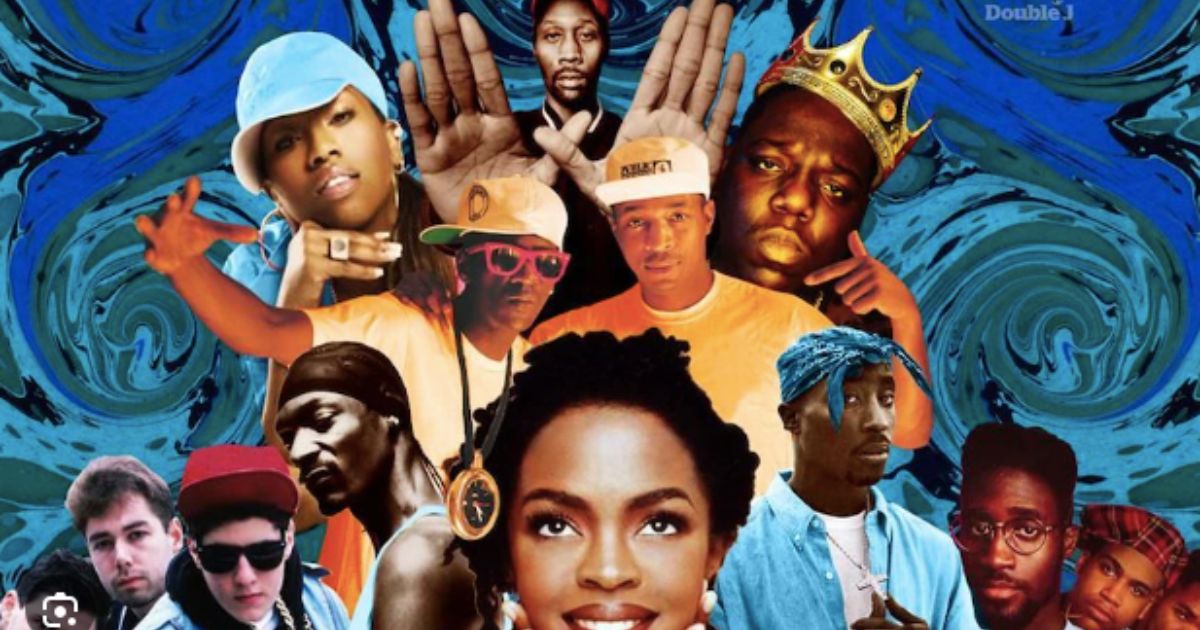 The Magnificent Seven: Hip Hop's Most Influential Artists of the '90s
MIC CHECK 
 
Ah, the '90s – the continuation of the golden age of hip hop; a time when baggy jeans, sweatbands, Air Force Ones and Butter Tims ran the streets. As we continue our celebration of the 50th anniversary of this genre that changed the world, it's time to pay homage to the trailblazers who paved the way.  What I am looking to do with this opinion edition is to create a list of the most essential artist(s) within the Hip Hop genre who were actively putting out music during the 1990's.
Before I begin, I must say that putting this list together was vastly more difficult than that of the 1980's.  For those of us lucky enough to have lived during this time period; we know that the early 90's brought an explosion of new artists that took the batons passed to them from their brethren the decade before.  Even the artists from the 80's that continued to perform in the 90's matured their skills to immaculate levels - like KRS-ONE's, "Step Into A World"!
As I did in the last entry, I feel it prudent to define what essential means.  Essential, for the sake of this opinion article, means that if that group, or artist, never existed then the trajectory of Hip Hop would not be what it is today.  Also, the legacy of anyone on this list is still contributing to the culture heavily today.  High Stakes right?
To increase the ante, I am going to rank order this list from bottom to top.  So with that being said, put on your Coogi Sweaters, Karl Kani Jeans, and lace up the Tim's while we explore who the most essential MC/Group of the 1990's Hip Hop are!
#7. Missy Elliott – The hip hop Queen of Innovation
Some of you reading this may not agree with this first entry.  When it comes to Missy, she made my list simply because she was, and still is, innovating.  With her quirky style, mind-bending music videos, and futuristic beats, Missy helped revolutionize hip hop and gave women a new voice in this male dominated genre.  The Timbaland produced "Supa Dupa Fly" was a meteor that hit in the late 90's.  Prior to Missy, females like Lil' Kim, Foxy Brown and Queen Latifah ran the charts.
Her legacy is ill!  Not only did she help shape the talent coming out of Virginia, but she changed the sound of the "played out" Hip Hop format that was beginning to take shape in the late 1990's.  When you listened to Missy or watched her videos, you understood that you were not receiving a manufactured / assembly line sound.  Her stamp in the game allowed countless other females to enter the door and make names for themselves. 
Missy Elliott in "The Rain (Supa Dupa Fly)"via YouTube.com
#6 Snoop Dogg – The Dogg Father
When I first heard Snoop on "Nuthin' But A "G" Thang" in 1992 I was intrigued.  Being from Texas, I was used to the slow laid back flows of UGK, Willie D and at times ScarFace, but the crisp production from Dr. Dre made it amazing - Yes, Amazing!  The Chronic album and then the subsequent Doggy Style album shifted the focus of Hip Hop from East to West Coast.  That is powerful.
Snoop's delivery has always been charismatic, descriptive, and highly adaptable. He is an artist that has also transcended the genre to become an icon!  Without Snoop, there would be no Dr. Dre as we know him today.  He helped build Death Row, he graced No Limit Records for some time and can now be found literally everywhere! 
#5 Tupac Shakur – The Revolutionary
In 2004 I was in Athens, Greece walking through a neighborhood close to the Parthenon.  There was some graffiti on the wall of one of the streets and on it I saw something amazing - an homage to Tupac that read "TuPac Forever".  I always found that intriguing and immediately understood that TuPac transcended Hip Hop and emotionally connected with people worldwide. 
Graffiti of Tupac in Ipanema, Rio De Janeiro
TuPac died in Sep of 1996 and we STILL explore his legacy today - through college courses, barbershop debates, movies etc..!  By the way, I was able to type this first sentence without researching because I knew exactly where I was when he was killed.  TuPac's legacy is and remains one of vulnerability, sadness and authenticity.  He tapped into the legendary status realm that most entertainers seek to ascend to.  The crazy part of it all was that he was able to achieve all of these things in 5 short years.  Imagine if he was still alive today? 
#4 Jay-Z – The Business Mogul
When it comes to hip hop and how the game is played, Jay-Z reigns supreme. His legacy is cemented and has helped father so many game changing artists; which in itself would require its own proper blog!  When Reasonable Doubt was released in 1996 you understood that Jay studied the landscape laid before him.
Jay-Z's mentor Jaz-O and Queen Latifah in the late 80's

 To come from a family raised in the Marcy Projects of Brooklyn, NYC to becoming the first billionaire from the Hip Hop genre is unfathomable.  Jay is lyrically on par with any heavyweight of the current generation and his business acumen is also on par with that of Warren Buffet.  In 25 years, he started his own record label (Roc-A-Fella), his own clothing line (RocaWear), movie production company, became President of DEF JAM records, started his own stream service (Tidal), has partnered with the NFL, and married Beyonce.  By the way, I left out lots of other things, but you get the point.  Hats off to Hova!
PHOTO: DAVID DOW/NBAE/GETTY
#3 OutKast – The Southern Playas
The South has something to say and OutKast led that charge.  While Big Boi and Andre 3000 may not have been the first Hip Hop group / artists to emerge from the Atl, they sure were the premier talent to put the south on the map.  What makes OutKast so amazing is that they literally shifted the focal point of the industry from the East and West Coast to the South.  When they dropped "Southernplayalisticadillacmuzik" the Hip Hop genre was in for a rude awakening - Hip Hop was not an East Coast monopoly.
With superb production from the Dungeon Family and support from the Goodie Mob, OutKast provided us with a Master Class on what music evolution looks like.  Their influence on current culture is evident in Hip Hop today.  They are a key reason why Atltana has become the black music capital of the United States. 

 #2 Wu-Tang Clan – The Masters of Shaolin
When it comes to hip hop groups, none can match - not even close.  That is a bold statement that I would gladly fall on my own sword over.  What makes the Wu Tang so unique from everyone else is that the RZA was able to coral, motivate and inspire 8 different MC's to create dope ass music!  The amount of logistics and coordination it must have taken to travel, record and produce so many personalities was a leadership challenge in itself. 
The WuTang Clan in the 90's

The GZA, the RZA, the ODB (Rest In Peace), Inspectah Deck, Masta Killa, U-God, Ghostface, Raekwon, and Method Man created a brand, style and sound in 1993 that has yet to be unmatched.  Enter the 36 Chambers was a game changer and I cannot imagine what Hip Hop would look like today without their influence in it. 
#1 Nas - GOD SON
"Street's disciple, my raps are trifle, I shoot slugs from my brain just like a rifle…"
Look, if you do not know this verse can we even be considered friends?  Just kidding of course, but when Nas dropped this stunning opening verse on Main Source's, Live at the BBQ in 1991 you knew that he was the future of Hip Hop.  When I first heard this I am pretty sure I lost my mind and did about 10 back flips because the flow was so crazy.  My crew and I piled into a hot ass Texas backyard shed and listened to the cassette single at least 20 times (The acoustics were good inside). 

What cannot be said about Nasir Jones?  In 2022 he dropped probably one of the best Hip Hop albums that year with King's Disease III.  He is a well known businessman having invested in Ring Doorbells, Mass Appeal and countless other companies.  All the while I am pretty sure his NY State of Mind tour with Wu Tang in 2022 was a top 3 grossing concert for that year.  Nas is Nas! 
Rapper Nas poses for a photo at Sweet Chick restaurant in Los Angeles, California, U.S., February 9, 2022. REUTERS/Mario Anzuoni Acquire Licensing Rights
PEACE OUT
I know exactly what you are thinking - "Where the hell is Biggie?"  Had this list gone to ten he would have.  I love Biggie, have met Biggie (may he Rest In Peace), and thoroughly respect his contributions, but felt these seven artists/groups above contributed way more to the culture in that respect.  I hope we can still be friends.
The '90s were a magical time for hip hop, and these seven influential artists played a significant role in shaping the genre's landscape.  From the lyrical prowess of Nas, to the introduction of southern hospitality by OutKast, to the groundbreaking sounds of Wu-Tang Clan; each artist brought their unique flavor to the table.  As we continue to celebrate hip hop's 50th anniversary, let's raise a glass to these legends who continue to inspire and influence the genre to this day. Long live the '90s!