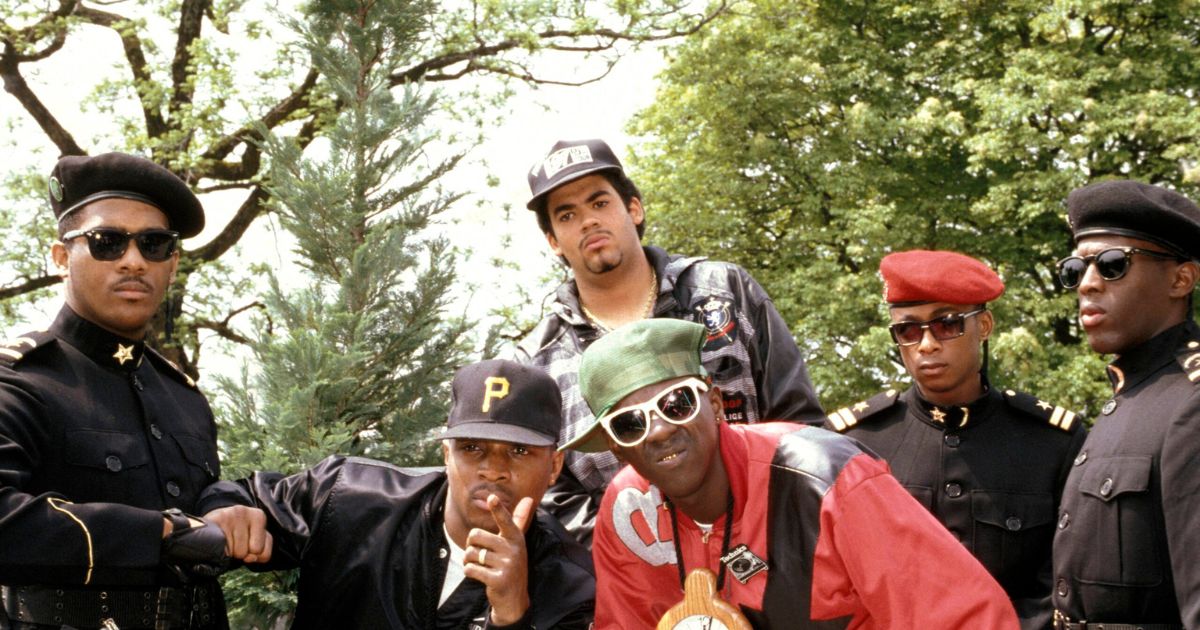 Breaking It Down: The 7 Most "Essential" Hip Hop Artists of the 1980's
Can you believe it?  Hip Hop, the little fad that was only given a few years to live in the early 80's just turned 50!  At Triple Nikel Headquarters we often debate over who the most influential MC's (Masters of Ceremony, Mic Controllers, etc..), or groups, were during each previous decade.  After pondering what to write in the coming weeks, I decided to put one of our many arguments on paper and create a list of the most essential MC's/Groups during the 1980's. 
This should be a lot of fun as we get to celebrate the 50-year milestone by taking a trip down memory lane to the era that birthed some of the most influential artists in the history of the game!  Before I begin, I feel it prudent to define what essential means.  Essential, for the sake of this opinion article, means that if that group, or artist, never existed then the trajectory of Hip Hop would not be what it is today.  Also, the legacy of anyone on this list is still contributing to the culture heavily today.  High Stakes right?
To increase the ante, I am going to rank order this list from bottom to top.  So with that being said, grab your Kangols, lace up your shell-toe Adidas, and let's explore who the most essential MC/Group of 1980's Hip Hop are!
Hip Hop persona collage (courtesy of, https://www.izotope.com/en/learn/the-5-most-important-developments-in-hip-hop-production.html)
 
#7 Beastie Boys - The Wild Ones
First of all Rest In Peace, Adam Yauch...  These three white boys from New York City brought a whole new level of audacity to the hip hop scene.  Mixing hip hop with punk rock and a dash of humor, the Beastie Boys became a force to be reckoned with. Tracks like "Fight for Your Right (To Party)" and "No Sleep Till Brooklyn" gave a rebellious edge to the genre and opened the world of Hip Hop to white audiences.
Beastie Boys in the 1980's (courtesy of NPR, https://www.npr.org/sections/therecord/2012/05/04/152027157/adam-yauch-co-founder-of-the-beastie-boys-dies)
While they are not on this list for their lyrical acumen - the trio brought a different energy to the young artform that was genuine and authentic.  It can be stated that one of their key legacy anchors are that they understood the culture and were not here to be vultures of it.
# 6 N.W.A - The Gangsta Pioneers
Now, let's take a walk on the wild side with N.W.A.  These Compton-based brothers shook the hip hop world to its core with their raw and unfiltered "Reality Story Raps".  Dr. Dre, Ice Cube, Eazy-E, MC Ren, and DJ Yella brought the gritty reality of street life to the forefront of hip hop.  Their debut album, "Straight Outta Compton," pushed boundaries and shocked the world with its explicit content and unapologetic portrayal of gangster culture.  Love them or hate them, N.W.A redefined the genre and paved the way for future gangsta rap artists.
What makes N.W.A.'s legacy stand head and shoulders above other groups and MC's in the gangster hip hop genre is their influence of others after the breakup of the group.  For example; Ice Cube left and began classic work with Chuck D, Public Enemy and the Bomb Squad; plus became a mogul in Hollywood.  Dr. Dre went on to Death Row Records, signed Snoop, Eminem, 50-Cent, The Game, Anderson PAC; promoted Beats Headphones and so on.  Before passing away from HIV/AIDS, Eazy-E signed Bone-Thugs.  Bottom line, N.W.A. is still impacting Hip Hop and Pop Culture today.
#5 Public Enemy - The hip hop Revolutionaries

When it comes to politically charged hip hop, nobody did it better than Public Enemy.  Armed with a powerful message and an unmistakable sound, Chuck D and Flavor Flav became the voice of a generation. Songs like "Fight the Power" and "Don't Believe the Hype" challenged societal norms and shed light on the struggles faced by marginalized communities. Public Enemy made it clear that hip hop wasn't just about beats and rhymes; it was a platform for change.
Listen, when Triple Nikel had their 1st year anniversary party we wore clocks on our gold chains because we knew what time it was.  When Spike Lee needed an anthem for his classic movie, "Do The Right Thing" he called on Chuck D to deliver what is easily one of the top 5 Hip Hop tracks period - "Fight The Power".  I feel like I don't even need to sing their praises any further because they are just those guys! 
Triple Nikel Founders at their 1st year anniversary party looking mighty fly (the theme was 80's and 90's Hip Hop - courtesy of Triple Nikel)
#4 LL Cool J - Ladies Love Him, and We Do Too
Ah, LL (Ladies Love) Cool J (James), the smooth-talking heartthrob of the '80s hip hop scene. Ladies couldn't resist his charm, and the fellas just wanted his swag.  This may be debatable, but I would venture to say that LL was the first bona-fide world wide Hip Hop superstar - next to Kurtis Blow and Whodini - respectively. 
LL Cool J looking for a beat! (image courtesy of https://hiphopgoldenage.com/list/top-15-ll-cool-j-songs/)
Not only was he the first solo act signed to Def Jam, but one of the first hip hop artists to be featured in a major film - 1985's Krush Groove.  With his signature Kangol hat and mesmerizing smile, LL Cool J delivered hit after hit.  From "I Can't Live Without My Radio" to "I Need Love," he showed us that rap could be both tough and tender.  Plus, the brother is still touring with the F.O.R.C.E. Tour (alongside the legendary Roots), looking great and still acting on NCIS!
#3 Run-D.M.C. - The Kings of Rock
If there's one thing we know for sure, it's that Run-D.M.C. brought hip hop to the mainstream like nobody else. With their iconic Adidas tracksuits and fedora hats, these guys set the new standard for Hip Hop Fashion and culture.  Their fusion of rock and rap in hits like "Walk This Way" with Aerosmith broke barriers and opened doors for future collaborations between different musical genres. They were the kings of the rap game, and they knew it! 
Their legacy is so large that it cannot be contained within these two small paragraphs.  Run, DMC and Jam Master Jay established the blueprint for future generations of groups - branding, fashion, stage show and business acumen. 
#2 Rakim - The GOD MC
"Thinking of a Master Plan, cuz ain't nothing but sweat inside my hands…".  I don't think you can call yourself a Hip Hop head if you cannot finish this bar.  Anyways, I digress; with his smooth flow, intricate wordplay, and impeccable rhyme scheme, Rakim elevated the art of MC'ing into a new stratosphere.  Rakim released his first single in 1986 (Eric B. is President) and we still recite/decipher the lyrics!
 
His debut album with Eric B., "Paid in Full," showcased his unparalleled skills, and tracks like "I Ain't No Joke" and "Microphone Fiend" solidified his status as a lyrical genius. What makes Rakim's legacy within Hip Hop a monument is that he forced everyone in the game to change and improve.  He is the only MC who is referenced as "The God MC" by others and not self-appointed.  Respect!
The GOD MC performing (courtesy of Hip Hop DX, https://hiphopdx.com/news/id.62086/title.rakim-gives-jay-z-his-flowers-for-quoting-i-know-you-got-soul-classic)

#1 Grandmaster Flash and the Furious Five
When Melle Mel spit this bar, "A child is born with no state of mind, blind to the ways of mankind…", everyone on the other side of the speaker understood that the era of the, "Hip Hop the hippy to the hippity hip hop you don't stop…" was over.
GrandMaster Flash and The Furious Five (courtesy of High Times, https://hightimes.com/culture/high-times-greats-grandmaster-flash-and-the-furious-five/)

What can I say?  GrandMaster Flash literally invented the 45 slipmat and the device that allows DJ's to listen to the other spinning record while the other is playing.  There is a reason when you discuss the Holy trinity of Hip Hop - GrandMaster Flash is one of the holy trio; to include Africa Bambaata and the Godfather himself Kool Herc.  Grandmaster Flash and the Furious Five were true trailblazers. They introduced the world to the art of new DJ'ing techniques, Social Consciousness in Hip Hop and were one of the first acts to collaborate with an R&B artist.  "The Message" remains, in my humble opinion, the most important Hip Hop track in the history of the genre. 
THE GRAND FINALE
The 1980's were a golden era for hip hop, and these seven artists/groups played pivotal roles in shaping the genre into what it is today.  From the pioneering DJ techniques of Grandmaster Flash to the genius level flows of the GOD MC - Rakim, each artist brought their unique style and personality to the table. They broke down barriers, challenged the status quo, and left an indelible mark on the hip hop landscape.
As we celebrate hip hop's 50th anniversary, let's remember and honor the artists who laid the foundation for this cultural phenomenon. They not only entertained us but also inspired generations of artists to follow their dreams and use their voices to make a difference.  Obviously, there are plenty of other acts and artists that could have made this list, but again, these are just my opinions.  So what are your thoughts on the list?  Do you have others that should have been top 7?  Let us know in the comments!