black history month
Since 1976, February has been set aside to honor African American history, culture, and contributions, while remembering the heroic efforts of those who have bravely fought against discrimination, oppression, and inequality for centuries.
We believe it's particularly important to honor and remember the sacrifices and victories of the Soldiers in the black military units throughout our nation's history. From the Revolutionary War to World War II, these units have often been overlooked or forgotten despite their incredible bravery and sacrifice for our country. 
We passionately highlight our namesake's unit, the 555th Parachute Infantry Battalion, because they unapologetically persisted to break down barriers to become the first all-black parachute infantry battalion, blazing a trail for many young black men and women who would follow them. These Soldiers, and many before and after them, selflessly served and gave their lives for a country that failed to treat them with the dignity and respect afforded to their white counterparts.
Their dedication, sacrifice, and persistence helped to change the course of history for all African Americans. The maltreatment of black war veterans after World War II, despite their honorable service to their country, ignited a spark that led to desegregation in the military, and, ultimately, the country. By honoring them during Black History Month, we can help ensure their legacy continues on for future generations.
SFC Alwyn Cashe
SFC Cashe was the consummate Soldier and leader, serving in both the Gulf War and Operation Iraqi Freedom. On October 17, 2005 in Salah Ad Din Province, Iraq, SFC Cashe selflessly put the lives of his Soldiers before his own, rescuing them from their burning vehicle while under enemy fire and suffering from severe burns.
He succumbed to his injuries on November 8, 2005. Because of his bravery and sacrifice, he was posthumously awarded the Medal of Honor. We honor his life, his service, and his sacrifice.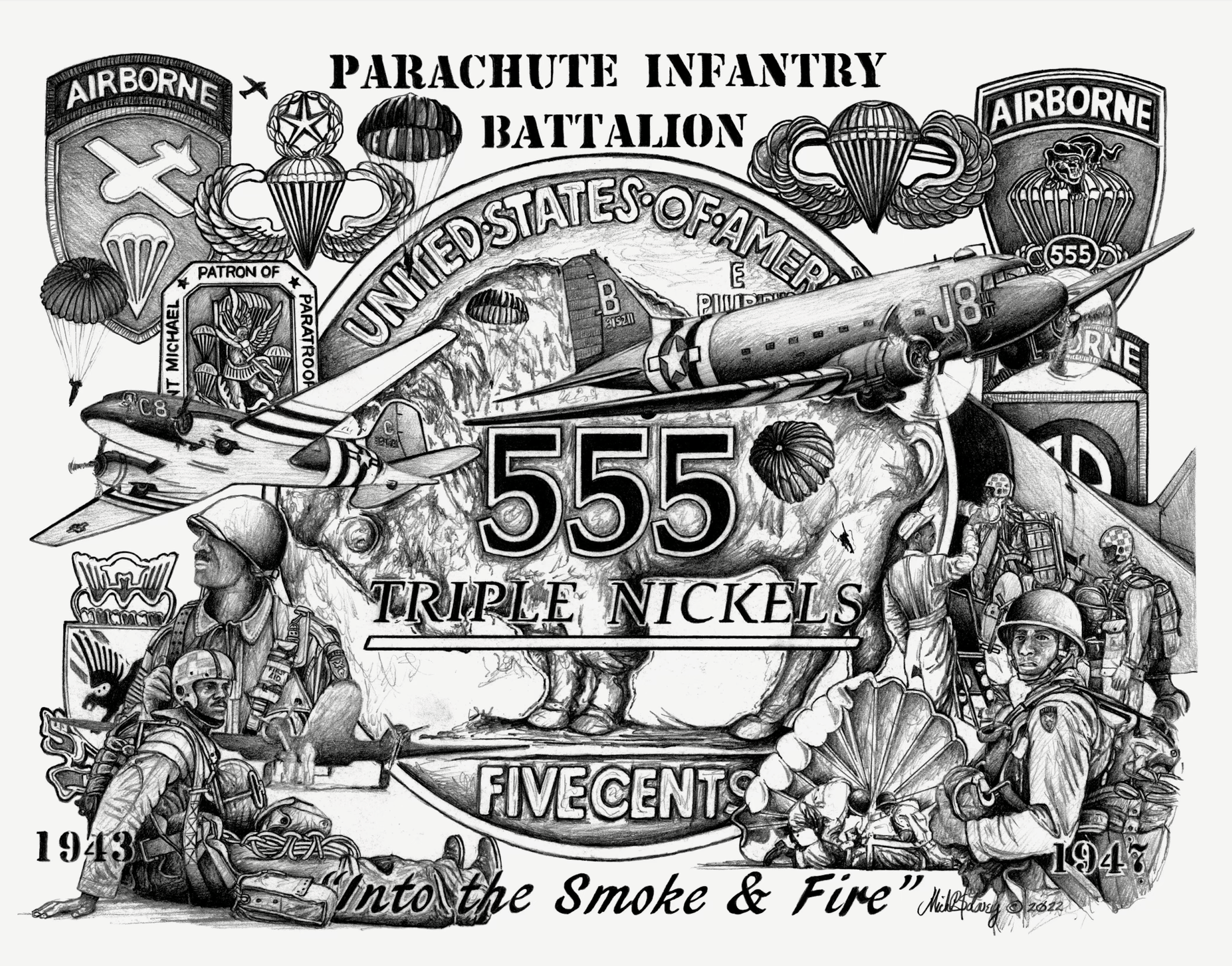 Honor Their Legacy
The History of 555
Learn more about the history and service of The 555th P.I.B., the first All-Black Parachute Infantry Battalion. We honor and remember the men who paved the way and changed history.
Learn More about the 555
On the desegregation of the U.S. military
"The military was the only institution in all of America—because of Harry Truman—where a young Black kid, now 21 years old, could dream the dream he dared not think about at age 11. It was the one place where the only thing that counted was courage, where the color of your guts and the color of your blood was more important than the color of your skin."
-General Colin Powell, first black Secretary of State
Black History Month Collection